Sand Casted "Custom Made" Picture Frame - MADE BY FEVER CASTING CO.
---
Brand:

MOONEYES

Product Code:

KG164

Availability:

Pre-Order 15-30 days

---
You can order "YOUR" original design picture frame.
This product is license frame design Sand Casted picture frame.
You can custom order your original design.
Picture frame that perfectly fits post card size.
On the solid diecast frame you can put in the year, SHOW NAME, car model and,
you can also put in birthday and your memorable date.
Then you can make the picture frame to your Special one.
It is with a stand do, you can place it at your room, garage and show case.
Perfect for a gift to your loved one and to keep your precious memory.
You just put in the photo from the back and fix the photo with 4 clasp.
The surface is glass so, you do not have to worry with your photo getting damaged.
Hand-made product so, each of the shape might differ dues to the nature of casting.
Because it is shaping a license plate, upper part is might cover some part of the picture.
It is using a glass so, please take care when you are putting the picture.
Weight:290g
Frame size:About 17cm x 12.8cm、
Inner side:About 14.2cm x 9cm
Perfect for Japanese post card size(100mm x 148mm).
Delivery date is about 3 weeks to 1 month.
(Depending on the amount of orders, delivery date might be changed.)
If you have any questions or concerns, feel free to contact us from the inquiry.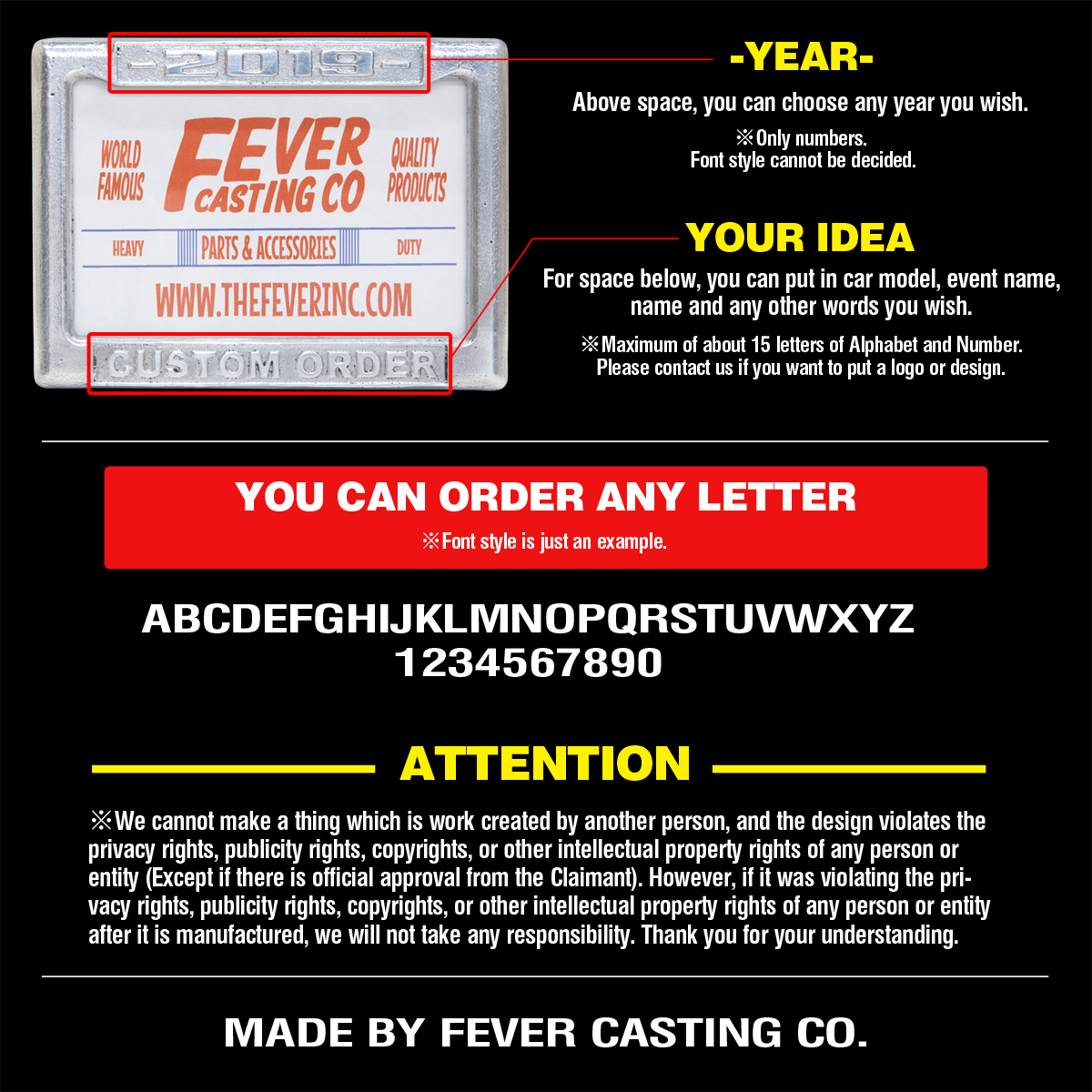 -YEAR-
Above space, you can choose any year you wish.
※Only numbers. Font style cannot be decided.
-YOUR IDEA-
For space below, you can put in car model, event name,
name and any other words you wish.
※Maximum of about 15 letters of Alphabet and Number.
Please contact us if you want to put a logo or design.
You can order any letter you wish.
※Font style is just an example.
ABCDEFGHIJKLMNOPQRSTUVWXYZ
1234567890?
※We cannot make a thing which is work created by another person, and the design violates the privacy rights, publicity rights, copyrights, or other intellectual property rights of any person or entity (Except if there is official approval from the Claimant). However, if it was violating the privacy rights, publicity rights, copyrights, or other intellectual property rights of any person or entity after it is manufactured, we will not take any responsibility. Thank you for your understanding.
※Please note that, we cannot accept any cancelation and refund after order.
Tags: MOONEYES, Home n Life